Keep the elderly safe this Summer
(That's if we get one)
Hundreds of free room thermometers have been dispatched through Caron Cares again this Winter even though it has been so mild.
As we slowly approach Summer ( hopefully ) these thermometers are also handy to check that an elderly persons' home is not too hot.
Many a time I have visited someone elderly in the height of Summer to find their heating on full blast, their home like a furnace posing the risk of heat exhaustion and dehydration.
If you would like one for someone elderly or disabled please fill in the form to the right of this article remembering to leave ALL your details, including the full postal address you would like it sent to.
There is a limit of one per household and sadly I can only ship to the UK for free but if you are an organisation working with the elderly I am able to provide more.
If you would like to make a donation towards my packing and postage costs I would be very grateful. You  do so using Paypal and my email of caroncares01@gmail.com.
Thank you.  I am an individual  not a company and spend my own money on postage.
The rest of the house should be heated to at least 18°C.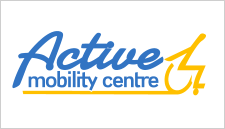 I endorse Active Mobility as I personally know the company and they offer amazing customer service, swift despatch and FREE UK delivery.
Now you can also do your shopping on Amazon from here and help me raise funds for dementia charities at no additional cost to yourself at all. It is money for nothing !
If you have found this useful, please Tib me !
{ 153 comments }