Manuka honey may help heal leg ulcers and other skin lesions. 
My Mother in Law had the most terrible leg ulcers and what ever the medical profession tried, nothing worked. She would have willingly tried anything to stop the awful weeping exudite that would leave her soaking wet and freezing cold.
Certain strains of  manuka honey  contain an active ingredient known as UMF which stands for Unique Manuka Factor and it is has antibacterial properties which are found in the nectar of the flower of some types of Manuka Honey. Only honey collected from certain leptospermum plants contain the special UMF property.The UMF activity exists alongside  the hydrogen peroxide antibacterial activity found in all honeys . This occurs as a result of an enzyme added to the nectar by the honeybee.
Working together these two antibacterial activities achieve enhanced effects and results.
Quality manuka honey with a higher than 10 UMF level may help heal a range of conditions from stomach ulcers to infections, as well as increasing your energy levels and general well-being. The level of UMF is displayed on the jar.
Studies have shown that high activity UMF Manuka Honey provides an optimum germ-free moist wound-healing environment which supports and enables the natural healing of varicose and skin ulcers, diabetic ulcers, pressure sores, wounds, burns, boils, cracked skin, cuts and grazes.
UMF Manuka Honey assists wound healing for many reasons including 
It is antibacterial and rapidly clears infecting bacteria, including antibiotic-resistant strains.
It cleans wounds, the honey lifts the dirt and debris out of the wound with an osmotic effect
It doesn't need oxygen and is effective even when covered with dressings or in wound cavities
Dressings do not stick to the surface of the wound
It reduces scarring the honey draws fluids and nutrients to the wound, assists cell growth and prevents a scar forming as the wound is kept moist.
Honey does not damage the surrounding tissue
The anti-inflammatory action of honey soothes and promotes healing, reduces pain and swelling
Whilst honey is a natural healer please consult with a doctor before using. I am not a medical professional and can not offer medical advice. I simply share information which I consider may be useful to carers.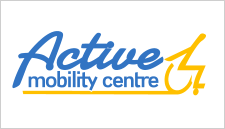 I endorse Active Mobility as I personally know the company and they offer amazing customer service, swift despatch and FREE UK delivery.
Now you can also do your shopping on Amazon from here and help me raise funds for dementia charities.