My Brain Book – an on line repository for people with memory loss.
Due to the nature of dementia, it is recommended that the individual start using MyBrainBook as early as possible after diagnosis as that is the time you are most able to plan for your future needs. I personally think using MyBrainBook before you have any cognitive loss also has some advantages – don't you ?
I was contacted about My Brain Book and have personally signed up for it myself. It is still in the Beta testing stage but I see far reaching usage of it in the future and not only for people who have a new diagnosis of dementia. In the UK and US a quarter of strokes are in the under 65 age group with many patients experiencing some degree of cognitive loss.
Stay aware, informed and in touch with My Brain Book; an online tool for people with and caring for those with dementia. 
A diagnosis of dementia can leave you and family members reeling. For many, the level of support following a diagnosis can be patchy and inconsistent, many people describe feeling lonely and unsupported. MyBrainBook aims to change that by ensuring the most relevant ongoing care and support for you and your loved one. By building a book of all health and personal information you provide a unique picture of the individual that will enable other informal and professional carers to better understand and support you. MyBrainBook provides a framework for discussions that enable you and the person with dementia to continue doing the things that are important to you for longer.
This personalised tool ensures you are involved your loved ones care and aware of the management of the disease by;
The creation and management of a personalised support plan that caters to their unique needs
The planning of future care and support for a possible move out of the home
Identifying personal health and well being goals and collaborate to achieve them
A list of all medications and doses
Highlighting issues or concerns to their healthcare team and support network
Ensuring all important contacts are at their fingertips, from family members to the local GP
Recording their life story such as hobbies, interests, likes and dislikes etc.
Uploading photos and music for sharing or accessing as a stimulation and reminisce tool
A diary to plan each day that marks important tasks, events or appointments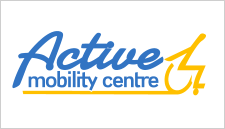 I support Active Mobility because the customer service is second to none, the goods are dispatched very swiftly and you are updated throughout the whole order process . They stock most items but if you can't find what you need contact them and they will source it for you. They also offer free delivery nationwide.