Welcome to Caron Cares
Advice and information for anyone caring for the elderly or someone with dementia.

As a self-employed personal assistant to the elderly for over 20 years, I saw on a daily basis the challenges they face. Reduced mobility, pain, impaired sight and hearing and many elderly people are are isolated and lonely. It's tough for them, a real struggle.
Health and social care services are now at breaking point. When I first wrote this page in 2012, I said "already under pressure" but the situation has rapidly worsened as a result of an ageing population and longevity as a whole. Cuts, cuts and more cuts. As a fly on the wall, I have seen social care at its very best and sadly very worst. I am personally very concerned about the future and wrote this article detailing my thoughts.
I am personally here to help.
There are currently over  800 articles about caring for an elderly person or someone with dementia here with ideas and suggestions on how you can help keep them independent and safe in their home.
I write with passion and insight because I genuinely care about the well-being of our elderly and their carers who are also often lonely,isolated and exhausted. My work is widely recognised in both the care sector and further afield. I use the word "sector" because I believe something as personal as care should not be referred to as an industry.
Contact me!
It is my passion to help the elderly live happy, fulfilled lives. If you have any problems or questions please feel free to use the contact form above to message me or you can call or text me on 074 119 47 200. I am personally here to help, seen as one of the "go to" people on FB for issues regarding eldercare.
Socialise with me 
You can find me on Facebookwhere I am very active, it's the best place to keep up with me! and Twitter @caroncares2,
About Me – Caron Sprake
Married with two grown up sons, I live by the sea in Exmouth, Devon. Still known for its tradition of a Christmas Day swim and formerly one of the best places to celebrate New Year's Eve. We have a large population of elderly people plus one of the largest comprehensive schools in Europe – an interesting demographic. I also write the Care Column for Devon Life, which is a real honour.
Being a self – employed  personal assistant ( home- help) allowed me more freedom and I absolutely loved my work. It was more like having an extended family than working. I have worked in a caring role for most of my adult life and do truly believed it to be my vocation.
It has also allowed me to witness failings by carers, care companies, and care homes, resulting in me becoming a vocal campaigner for quality care for the elderly.
My earlier care career
At 14, I helped in a school for children with severe learning difficulties. This was an inspiring experience.
At 18, I looked after PC Philip Olds QGM. Philip was had been shot and paralysed.
I  cared for my Grandparents in the Scottish Highlands for a period of time.
I  worked in a Residential home caring for disabled adults which I loved.
I started Registered nurse training which I loved but my career was sadly shortened by back trouble.Probably a blessing in disguise now as I would be a frustrated "form filler" now.
I cared for my blind and disabled Mother-in-Law for 15 years enabling her to stay at home until she passed away. I did this whilst juggling work and a young family and understand the pressure and strain of being a carer.
Caron Cares is my first online project, started in 2012 when I was an absolute technophobe! It has come a long way. It's self-funded and at present any income generated from adverts and my Amazon affiliate membership is used cover postage costs when I send out Age UK's "Winter wrapped up guides and free room thermometers" – Don't let the elderly die of cold.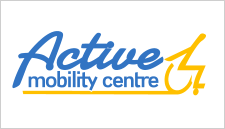 I endorse Active Mobility as I personally know the company and they offer amazing customer service, swift dispatch and FREE UK delivery.   Thank
you
for visiting Caron Cares, please help me spread the word by telling others. Caron X